POULTRY UNHAIRING MACHINE AUTOMATICALLY F50
◼️ Automatic poultry unhairing machine F50 made of 100% stainless steel is the best quality of Vietnam.
◼️ Motor 100% copper cable, puly with 2 curoa fibers, simple operation, remove poultry's hair 95% quickly and clearly within 20 seconds.
⬛ Operating method of poultry unhairing machine:
◼️ This machine includes: unhairing circle box, water vane, rubber buttons, curoa fibers and motor.
◼️ Operating principles of the automatic poultry unhairing machine is similar to the way washing machine works: unhairing circle box will rotate during the operation which rotates poultry at the same time. Rubber buttons are designed to touch poultry and unhair it. After 20-30 seconds, poultry's hair will be pushed into drain pipe and the outcome is poultry with no hair.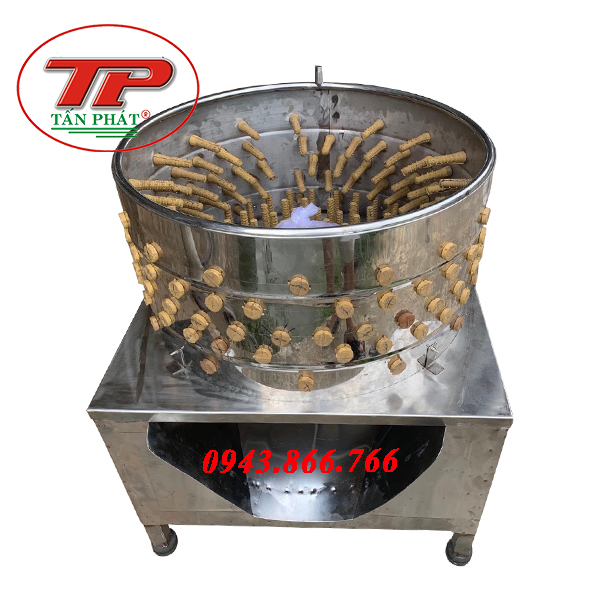 ⬛ Information of industrial poultry unhairing machine:
◼️ Made of 100% stainless steel and not to be rusty when it touches water.
◼️ The bottom of unhairing circle box is designed spaciously with various sizes F50 – F55 – F60, which is convenient for customers to choose.
◼️ Rubber buttons are logically arranged to help the machine unhair poultry easily.
◼️ Puli with 2 curoa fibers keeps the circulation stable and raise adhesion.
◼️ Motor 100% made of copper cable, warranty policy for exchanging a new one within 1 year.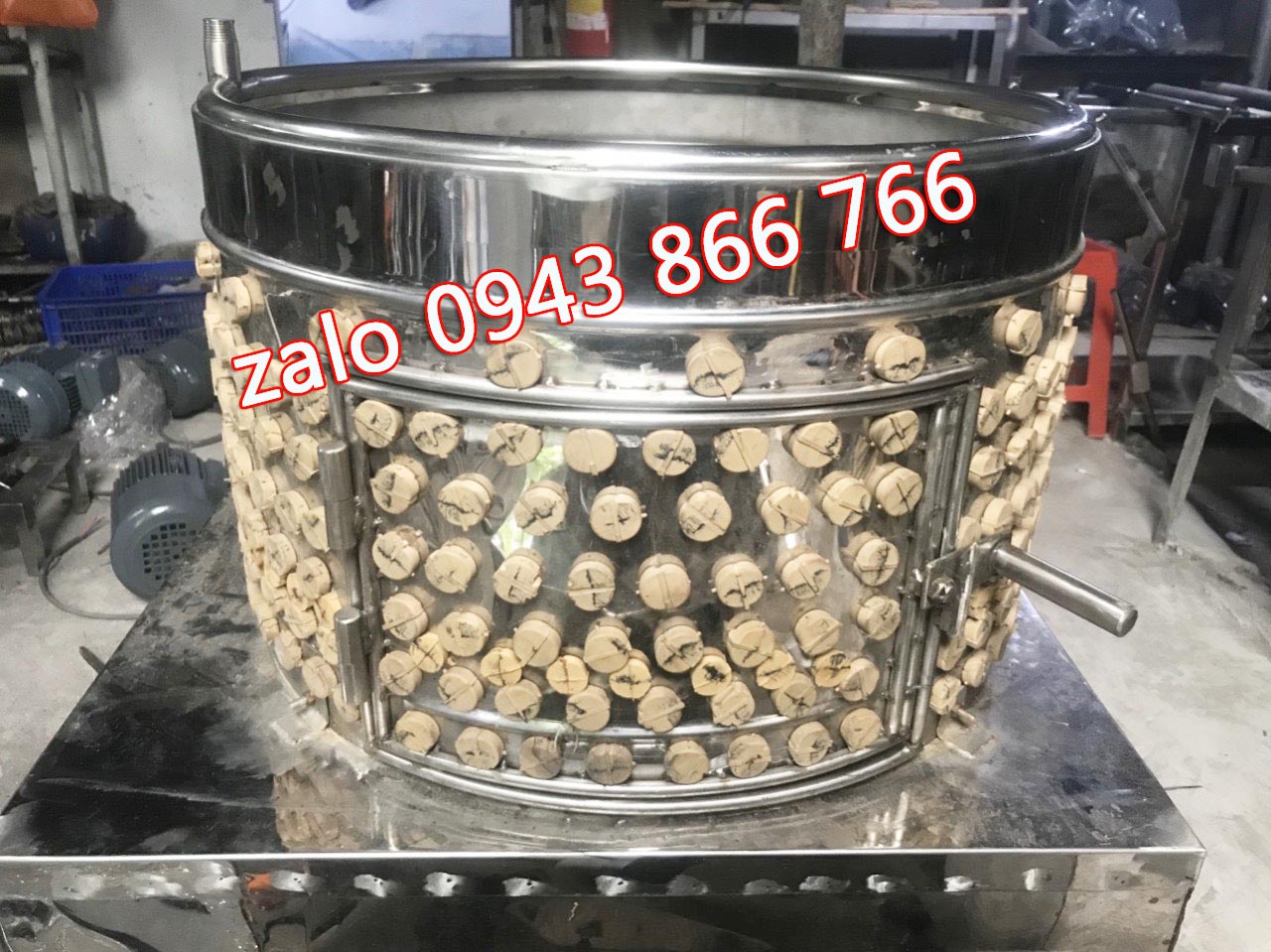 ⬛ Minimizing time-consuming
◼️ In the past, it took us much time to unhair 1-2 chicken without the help of any equiment. Especially for household business, there is a dozen of chickens unhaired everyday that makes us feel exhauted.
◼️ Nowadays, thanks to the help of poultry unhairing machine, it took us only under 60 seconds to unhair a chicken totally (about 60-120 chickens /hour) which save our time, cost to get more profit than before.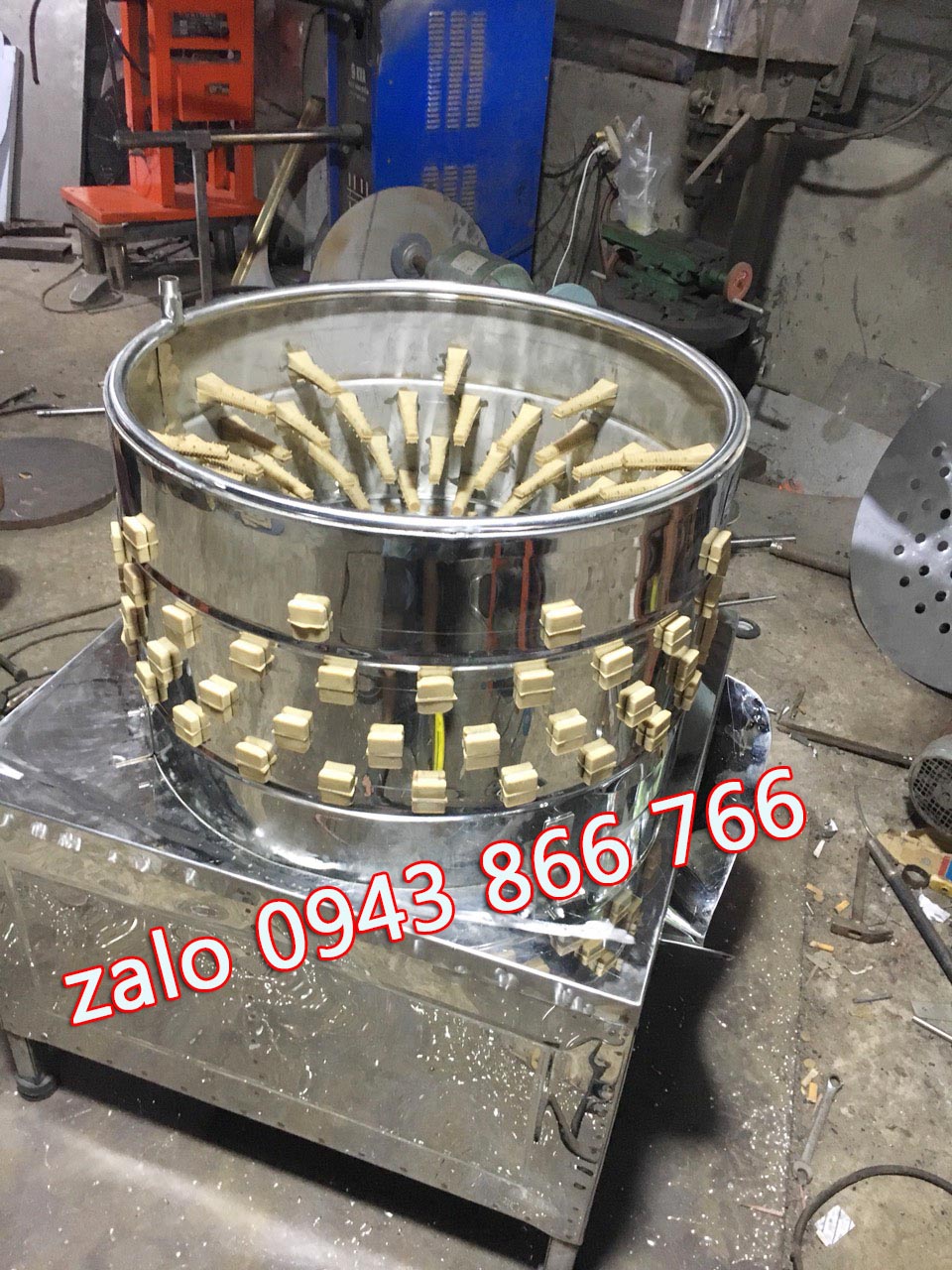 ⬛ Details of poultry unhairing equipment:
◼️ Model: 220V-50Hz
◼️ Motor: 1.1KW
◼️ Efficiency: 1-5 chickens (depending on its size)
◼️ Unhairing rate: 95%
◼️ Material: non-rusty stainless steel
◼️ Weight: 55kg
◼️ Unhairing box diameter: 50cm
◼️ Warranty: Technical framework 5 years
◼️ Attention: the machine's capacity may not fixed depending on poultry's weight and size.
⬛ Guarantee food safety
◼️ The poultry unhairing machine operates based on a closed process which is unharmful to you.
◼️ First, you merge poultry into 70oC boiling water to soften its hair before putting it into unhairing circle box which is equipped with soft rubber buttons, high elascity.
⬛ TIP:
◼️ Whether having poultry unhaired by poultry unhairing machine affects to its skin or not? The answer is no if you do not merge poultry into boiling water too long (its skin will be softened) which leads to scratched skin.
❌❌❌ INCENTIVES ❌❌❌
✔️ Replacement policy in case of manufacturing false within 7 days.
✔️ Instalment policy and credit card payment.
✔️ Professional and pleasant staff crew helps customers choose suitable products.
✔️ Transparent warranty policy, be supportive to customer in case of their need. We try our best to give you all best services.
✔️ Alternatives are always available.
✔️ Transparent origin. WE WORK WITH NO LOW-QUALITY PRODUCT.
💥 Contact for us at :
☎ Phone : +84 943 866 766 (zalo, viber, whatsapp)
🏤 Email : canemachinetanphat@gmail.com
🏤 Website : https://www.sugarcanemachine.vn
Youtube : https://www.youtube.com/user/SuperQuangtan/videos…
Facebook : www.facebook.com/sugarcanejuicermachineTanPhat/
Poultry unhairing machine in usa in thailand

Poultry unhairing machine in CANADA in AUSTRALIA

Poultry unhairing machine in COMBODIA in RWANDA

Poultry unhairing machine price in Ghana in Malaysia

Poultry unhairing machine in LAOS in Nigeria in PHILIPPINES

Poultry unhairing machine in Denmark in INDIA

Poultry unhairing machine in PAKISTAN in Bangladesh

Poultry unhairing machine in Egypt in Tanzania

Poultry unhairing machine in Uganda in Myanmar

Poultry unhairing machine High quality stainless in France in Fiji

Poultry unhairing machine in Japan in U.K

Poultry unhairing machine factory in KENYA in HAITI in China

Poultry unhairing machine stainless steel in Switzerland in DUBAI in Spain

Poultry unhairing machine in Brunei in Cameroon in Singapore

Poultry unhairing machine for store use in Cameroon in Taiwan in Panama

Poultry unhairing machine in New Zealand in Mexico in Oman

Poultry unhairing machine in USA in Malawi in Jamaica in Korea