NEW STYLE PT40-4DMAX- SUGARCANE JUICER MACHINE EXTRACT MAX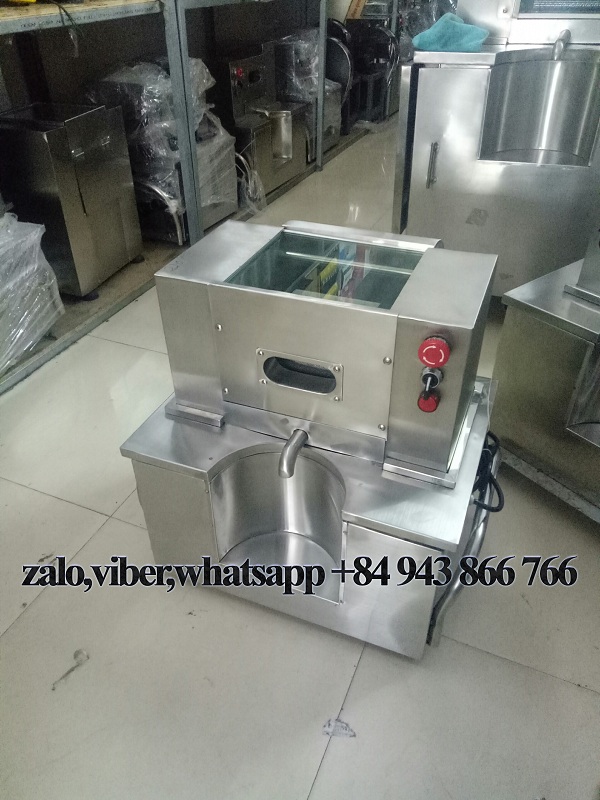 👉The PT-40-4DMAX - with 4 Roller- sugarcane juicer machine Extract Max is a durable, commercial quality juicer made completely of food grade stainless steel. This is the finest juicer on the market. You can also find plenty of less expensive Juicers but none better than the PT40-4DMAX sugarcane machine Extract Max.
👉sugarcane juice machines is our most popular selling. The reason is because of its reasonable price, you can extract juice 1-2 sugarcanes at a time which is convenient to serve rush crowds. Lightweight makes it easy to transport by vehicle to serve sugarcane juice at events.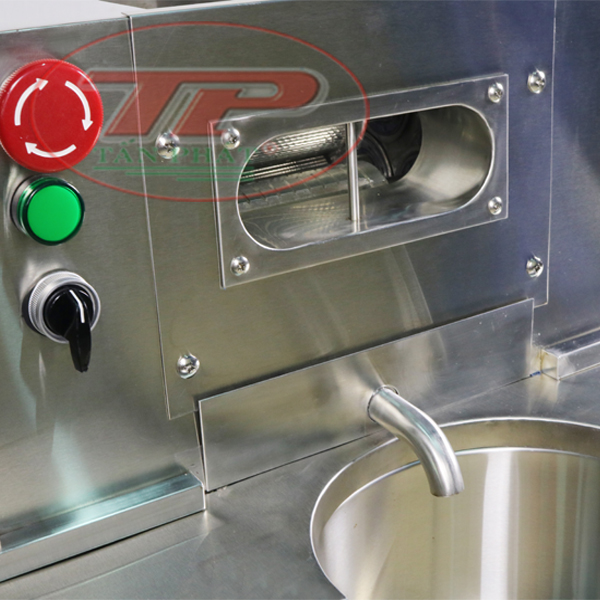 (The safety switch and the AC switches)
👉 Structure PT-40-4D Roller - sugarcane juice machine Extract Max crushing plant:
✔️ Sugarcane Machine Design PT40-4D Max - sugarcane juicer machine Extract
✔️ Max including the first single crushing machine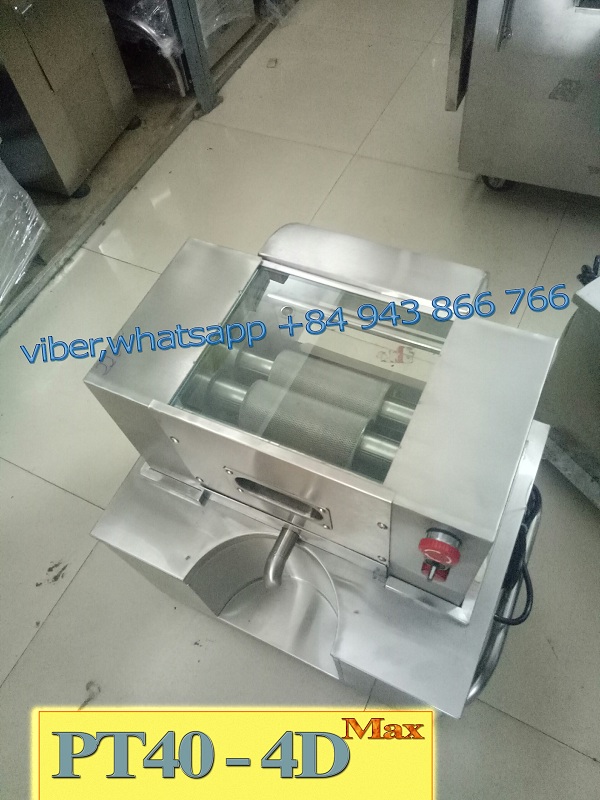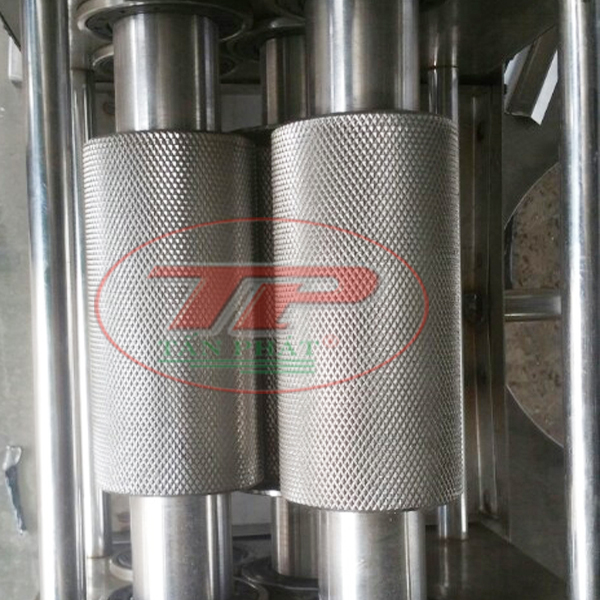 (4 diamond-shape ROLLERS made of stainless steel)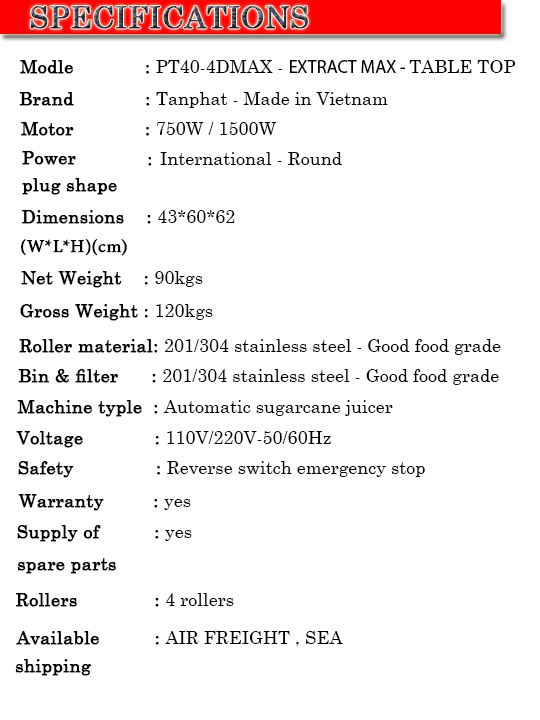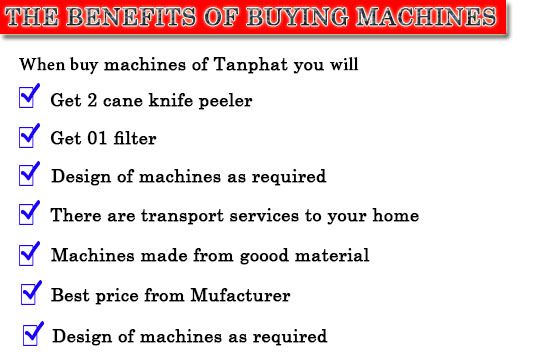 👉Advantages of the crushing machine PT-40-4D Roller - sugarcane juicer machine Extract Max is based on the assembly structure:
✔️ Competitive PRICE
✔️ Extracting maximum 99% only one time
✔️ Speed FAST machine operation.
✔️ Capacity is strong
✔️ Material: 201/304 stainless steel
sugarcane machine with beautiful, comfortable design.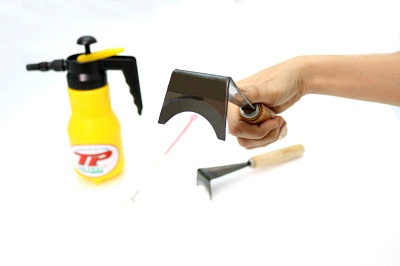 Image of 2 sugarcane peelers

*****************************
💥 Contact for us at :
☎ Phone : +84 943 866 766 (zalo, viber, whatsapp)
🏤 Email : canemachinetanphat@gmail.com
🏤 Website : https://www.sugarcanemachine.vn
Youtube :https://www.youtube.com/user/SuperQuangtan/videos…
Facebook : www.facebook.com/sugarcanejuicermachineTanPhat/

**********************************
sugarcane machine in usa in thailand
sugarcane juicer machinein in CANADA in AUSTRALIA

sugsugar cane juicer machine in COMBODIA in RWANDA

sugar cane juicer machine price in Ghana in Malaysia

juicer extractor machine in LAOS in Nigeria in PHILIPPINES

Sugarcane Industrial Juicer Machine in Denmark in INDIA

Juice Extractor in PAKISTAN in Bangladesh

Industrial Sugarcane Juicer in Egypt in Tanzania

Sugarcane Extracting in Uganda in Myanmar

sugarcane juicer machine High quality stainless in France in Fiji

High quality motor mini surge cane juice extractor in Japan in U.K

sugarcane juicer machine factory in KENYA in HAITI in China

sugarcane_machine stainless steel in Switzerland in DUBAI in Spain

Stainless steel electric sugar cane juicer machine in Brunei in Cameroon in Singapore

industrial sugarcane mill machine for store use in Cameroon in Taiwan in Panama

Sugarcane mini machine in New Zealand in Mexico in Oman

sugarcane juicer machine in USA in Malawi in Jamaica in Korea