JUICE DISPENSER
◼️ Double tanks 2 x 18L commercial refrigerator freezer is imported with high-quality brand delivered by Tan Phat which is optimally designed to make it cold fast and stay cold. This juice dispenser is innovated comparing to other brands to save cost to buy and electricity to use smartly.
⬛ Advantages of juice dispenser:
◼️ Small design, luxurious style, easy to store and clean.
◼️ Fast freezing and stay juice in optimal temperature.
◼️ Electric saving system.
◼️ Fruit juice freezing machine is simple to use.
◼️ On/off switch is designed conveniently.
◼️ Used for juice, smoothy, milk tea and cereal.
◼️ Ice is unnecessary to add while juice's natural flavor can be still stored.
◼️ Vegetable juice can be kept its flavor and vitamin content in this machine.
◼️ Cool temperature 7-12oC.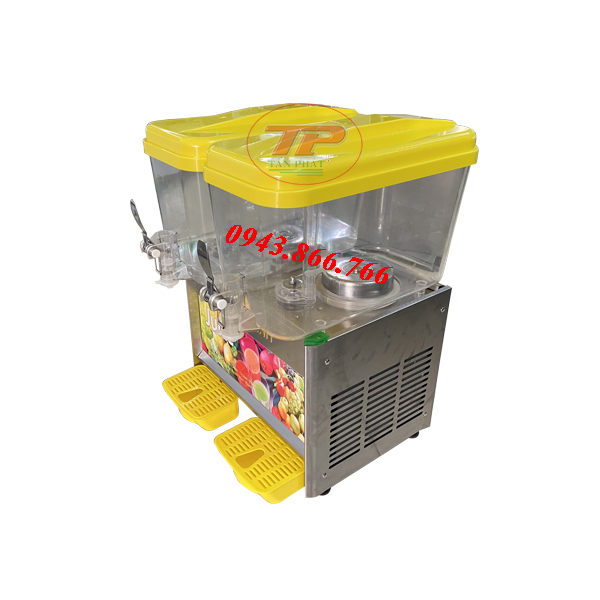 ⬛Reasons to have a stainless steel fruit juice dispenser machine:
◼️ Fast freezing without adding ice
◼️ Guarantee beverage safety
◼️ Convenient to move and easy to clean
◼️ Best choice for small business
⬛ Details of juice beverage dispenser machine:
◼️ Packaging dimensions: 70x51x52mm
◼️ Dimensions: 64x48x49mm
◼️ Power: 220V
◼️ Frequency: 50Hz
◼️ Capacity: 150W
◼️ Volume: 16L
◼️ Temperature: 7-12oC
◼️ Weight: 27kg
💥 Contact for us at :
☎ Phone : +84 943 866 766 (zalo, viber, whatsapp)
🏤 Email : canemachinetanphat@gmail.com
🏤 Website : https://www.sugarcanemachine.vn
Youtube : https://www.youtube.com/user/SuperQuangtan/videos…
Facebook : www.facebook.com/sugarcanejuicermachineTanPhat/
juice beverage dispenser machine in usa in thailand

juice beverage dispenser machine in CANADA in AUSTRALIA

juice beverage dispenser machine in COMBODIA in RWANDA

juice beverage dispenser machine price in Ghana in Malaysia

juice beverage dispenser machine in LAOS in Nigeria in PHILIPPINES

juice beverage dispenser machine in Denmark in INDIA

juice beverage dispenser machine in PAKISTAN in Bangladesh

juice beverage dispenser machine in Egypt in Tanzania

juice beverage dispenser machine in Uganda in Myanmar

juice beverage dispenser machine High quality stainless in France in Fiji

juice beverage dispenser machine in Japan in U.K

juice beverage dispenser machine factory in KENYA in HAITI in China

juice beverage dispenser machine stainless steel in Switzerland in DUBAI in Spain

juice beverage dispenser machine in Brunei in Cameroon in Singapore

juice beverage dispenser machine for store use in Cameroon in Taiwan in Panama

juice beverage dispenser machine in New Zealand in Mexico in Oman

juice beverage dispenser machine in USA in Malawi in Jamaica in Korea